Silicon Graphics Octane Model CMNB015ANG300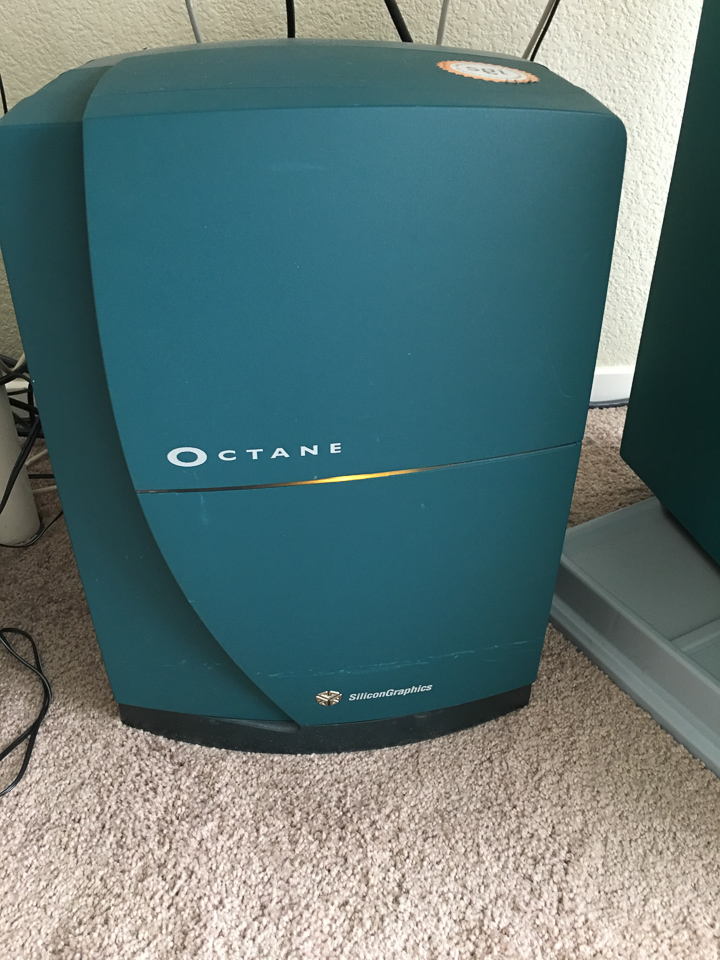 This is my main SGI machine that I leave hooked up to keyboard/mouse/monitor. I'm trying to build it up to somewhere around the best configuration that could have been purchased in the 1998-1999 time frame. It does already have the newer revision IP30 (as seen in late-model Octanes and all Octane2s) so it's not exactly all period appropriate as it is.
It came with an ESI (SE) graphics board but I have since replaced it with an MXI board.
The incandescent bulbs in the front panel light module were burnt out so I replaced them with a single diffused "warm white" LED.
Update 7 Jul 2017 I added 512MB of RAM and swapped the PSU out for a Cherokee 747W version. This machine is almost an Octane2 now.
Update 29 July 2017 I finally got around to installing the drivers for the Personal Video (EVO) board I had installed earlier, only to find that it causes the monitor output to be different in a way that my 19" LG LCD doesn't like one bit… I get output that flickers to black and stays that way for several seconds, repeatedly. Plugged the output into my widescreen Viewsonic LCD and it doesn't have any problems. So, in the meantime I've moved the EVO card over to my other functioning Octane, phobos. Also stole another 512MB of RAM from my parts Octane.
Update 16 Dec 2017 I picked up another frontplane to replace the faulty one from one of my other Octanes, but since this new frontplane has a v1.4 Xbow chip I decided to put it in my primary Octane so it has the most up to date hardware. Now, this machine is equivalent to an Octane2 since it has the newer frontplane, power supply and mainboard.
PROM Monitor SGI Version 6.5 Rev 4.17 IP30 Jan 20, 2004 - 64 Bit
IRIX64 octane 6.5 07202013 IP30

Hardware
Rev F FP1 Frontplane w/ v1.4 Xbow
IP30 CPU Board (new model)

Dual 300MHz MIPS R12000 CPU w/2MB Secondary Cache
2.5GB RAM (2x512MB, 6x256MB)

MXI Graphics (MGRAS IMPACT, 2 TRAM modules)
PCI Shoebox
DDS4 20GB Tape Drive (Sony SDT-10000)
DDS2 4GB Tape Drive (Archive Python 01941 / Seagate CDT-8000) - For DAT Audio support
Seagate Cheetah ST3146855LC 15000rpm 146.8GB Ultra320 SCSI Disk
Software
IRIX 6.5.30 (final release)
Documentation
hinv -vm
Location: /hw/node
      PM20300MHZ Board: barcode KGV814     part 030-1356-001 rev  M
Location: /hw/node/xtalk/15
            IP30 Board: barcode MYC359     part 030-1467-001 rev  K
Location: /hw/node/xtalk/15/pci/2
    PWR.SPPLY.ER Board: barcode AAE9050672 part 060-0035-001 rev  C
             FP1 Board: barcode KEB597     part 030-0891-003 rev  F
Location: /hw/node/xtalk/13
        XTALKPCI Board: barcode MCZ302     part 030-0952-009 rev  B
Location: /hw/node/xtalk/12
            GM20 Board: barcode DCY251     part 030-0957-003 rev  G
2 300 MHZ IP30 Processors
Heart ASIC: Revision F
CPU: MIPS R12000 Processor Chip Revision: 2.3
FPU: MIPS R12010 Floating Point Chip Revision: 0.0
Main memory size: 2560 Mbytes
Xbow ASIC: Revision 1.4
Instruction cache size: 32 Kbytes
Data cache size: 32 Kbytes
Secondary unified instruction/data cache size: 2 Mbytes
Integral SCSI controller 0: Version QL1040B (rev. 2), single ended
  Disk drive: unit 1 on SCSI controller 0 (unit 1)
  Tape drive: unit 2 on SCSI controller 0: DAT
  Tape drive: unit 3 on SCSI controller 0: DAT
Integral SCSI controller 1: Version QL1040B (rev. 2), single ended
IOC3/IOC4 serial port: tty1
IOC3/IOC4 serial port: tty2
IOC3 parallel port: plp1
Graphics board: MXI
Integral Fast Ethernet: ef0, version 1, pci 2
Gigabit Ethernet: eg0, PCI slot 2, firmware version 12.4.10
Iris Audio Processor: version RAD revision 12.0, number 1
  PCI Adapter ID (vendor 0x10a9, device 0x0003) PCI slot 2
  PCI Adapter ID (vendor 0x1077, device 0x1020) PCI slot 0
  PCI Adapter ID (vendor 0x1077, device 0x1020) PCI slot 1
  PCI Adapter ID (vendor 0x10a9, device 0x0005) PCI slot 3
  PCI Adapter ID (vendor 0x10a9, device 0x0009) PCI slot 2

/usr/gfx/gfxinfo -v
Graphics board 0 is "IMPACTSR" graphics.
        Managed (":0.0") 1600x1200
        Product ID 0x3, 2 GEs, 2 REs, 4 TRAMs
        MGRAS revision 1, RA revision 0
        HQ rev B, GE11 rev B, RE4 rev C, PP1 rev A,
        VC3 rev A, CMAP rev E, Heart rev F
        21" monitor (id 0xb)

        Input Sync: Voltage - Video Level; Source - Internal; Genlocked - False
        Channel 0:
         Origin = (0,0)
         Video Output: 1600 pixels, 1200 lines, 59.83Hz (1600x1200_60)
         Video Format Flags:  (none)
         Sync Disabled
         Using Gamma Map 0

Benchmark (single CPU)
octane 1% openssl speed md5 sha1 sha256
Doing md5 for 3s on 16 size blocks: 374334 md5's in 2.99s
Doing md5 for 3s on 64 size blocks: 302992 md5's in 2.99s
Doing md5 for 3s on 256 size blocks: 186604 md5's in 2.99s
Doing md5 for 3s on 1024 size blocks: 74051 md5's in 2.99s
Doing md5 for 3s on 8192 size blocks: 11187 md5's in 2.99s
Doing sha1 for 3s on 16 size blocks: 383489 sha1's in 2.99s
Doing sha1 for 3s on 64 size blocks: 293590 sha1's in 2.99s
Doing sha1 for 3s on 256 size blocks: 168752 sha1's in 2.99s
Doing sha1 for 3s on 1024 size blocks: 62592 sha1's in 2.99s
Doing sha1 for 3s on 8192 size blocks: 9107 sha1's in 2.99s
Doing sha256 for 3s on 16 size blocks: 279904 sha256's in 2.99s
Doing sha256 for 3s on 64 size blocks: 161854 sha256's in 2.99s
Doing sha256 for 3s on 256 size blocks: 71996 sha256's in 2.99s
Doing sha256 for 3s on 1024 size blocks: 22371 sha256's in 2.99s
Doing sha256 for 3s on 8192 size blocks: 3010 sha256's in 2.99s
OpenSSL 0.9.8zh 3 Dec 2015
built on: Sun Jun 18 20:56:20 PDT 2017
options:bn(64,64) md2(int) rc4(ptr,char) des(ptr,risc2,16,long) aes(partial) idea(int) blowfish(ptr)
compiler: cc -DOPENSSL_THREADS -D_SGI_MP_SOURCE -DDSO_DLFCN -DHAVE_DLFCN_H -n32 -mips3 -O2 -use_readonly_const -G0 -rdata_shared -DTERMIOS -DB_ENDIAN -DBN_DIV3W
available timing options: TIMES HZ=100 [sysconf value]
timing function used: times
The 'numbers' are in 1000s of bytes per second processed.
type             16 bytes     64 bytes    256 bytes   1024 bytes   8192 bytes
md5               2003.13k     6485.45k    15976.80k    25360.61k    30650.14k
sha1              2052.12k     6284.20k    14448.33k    21436.19k    24951.35k
sha256            1497.81k     3464.43k     6164.21k     7661.51k     8246.80k