Silicon Graphics Octane Model CMNB015ANF195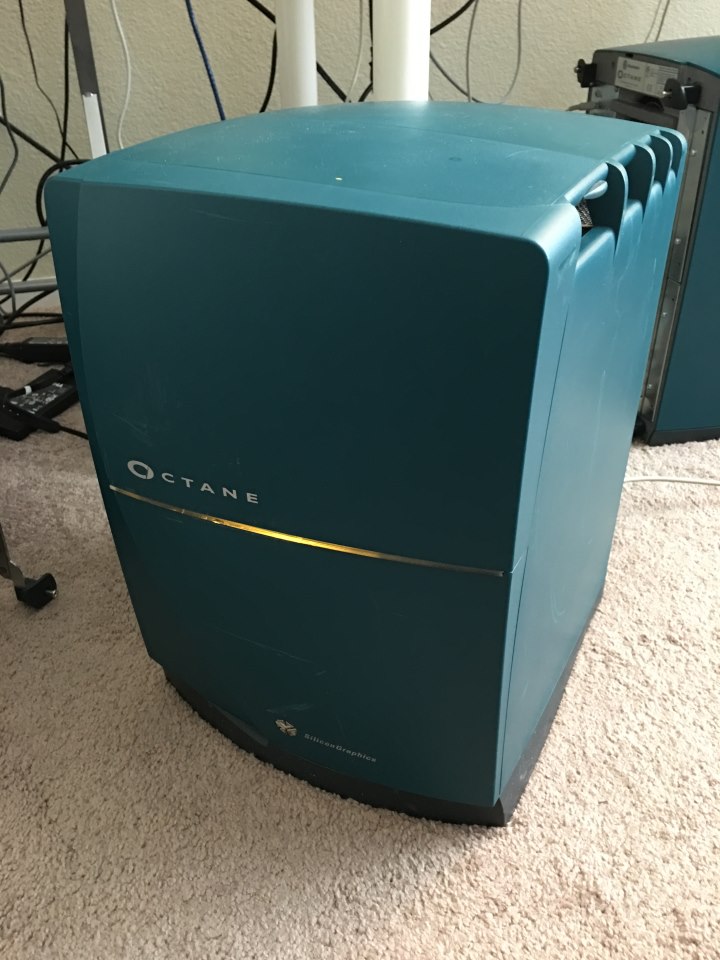 This Octane is a bit of a frankenstein machine because it's made up of a bunch of mismatched parts. I bought a couple Octane shells that had the chassis, skins (most of them, at least) and power supplies intact. I then bought a pair of IP30 system boards with CPUs and RAM and paired them with the SE graphics cards I had already accumulated (my first Octane came with an SE card, then I subsequently bought an SE card with the EVO board). More detail on trying to get all these machines working can be found on my Retro Day Fail post. Basically, this machine is all of the working parts from that adventure.
The most interesting thing about this machine is that it has Silicon Graphics asset stickers on the frontplane and PCI cage cover. Otherwise it is a fairly low end launch-era Octane aside from the SE graphics which weren't available until later on.
Like my other Octane, I also replaced the incandescent bulbs in the lightbar with a warm white LED.
PROM Monitor SGI Version 6.5 Rev 4.17 IP30 Jan 20, 2004 - 64 Bit
IRIX64 phobos 6.5 07202013 IP30

Hardware
FP1 Frontplane w/ v1.2 Xbow
IP30 CPU Board (original model)

Dual 195MHz MIPS R10000 CPU w/1MB Secondary Cache
640MB RAM (2x256MB, 2x64MB)

ESI (SE) Graphics (MGRAS IMPACT)
Seagate Cheetah ST373405LC 10000rpm 73.4GB Ultra160 SCSI Disk
Software
IRIX 6.5.30 (final release)
Documentation
hinv -vm
Location: /hw/node
            PM20 Board: barcode DWD619     part 030-0890-003 rev  C
Location: /hw/node/xtalk/15
            IP30 Board: barcode GGY294     part 030-0887-005 rev  B
Location: /hw/node/xtalk/15/pci/2
    PWR.SPPLY.S2 Board: barcode AAC7450324 part 060-0038-001 rev  C
             FP1 Board: barcode DJH463     part 030-0891-003 rev  A
Location: /hw/node/xtalk/12
           MOT10 Board: barcode GTE886     part 030-1241-002 rev  K
Location: /hw/node/xtalk/11
             EVO Board: barcode HRV102     part 030-1156-003 rev  B
2 195 MHZ IP30 Processors
Heart ASIC: Revision E
CPU: MIPS R10000 Processor Chip Revision: 2.7
FPU: MIPS R10010 Floating Point Chip Revision: 0.0
Main memory size: 640 Mbytes
Xbow ASIC: Revision 1.2
Instruction cache size: 32 Kbytes
Data cache size: 32 Kbytes
Secondary unified instruction/data cache size: 1 Mbyte
Integral SCSI controller 0: Version QL1040B (rev. 2), single ended
  Disk drive: unit 1 on SCSI controller 0 (unit 1)
Integral SCSI controller 1: Version QL1040B (rev. 2), single ended
IOC3/IOC4 serial port: tty1
IOC3/IOC4 serial port: tty2
IOC3 parallel port: plp1
Graphics board: ESI
Integral Fast Ethernet: ef0, version 1, pci 2
Iris Audio Processor: version RAD revision 12.0, number 1
  PCI Adapter ID (vendor 0x10a9, device 0x0003) PCI slot 2
  PCI Adapter ID (vendor 0x1077, device 0x1020) PCI slot 0
  PCI Adapter ID (vendor 0x1077, device 0x1020) PCI slot 1
  PCI Adapter ID (vendor 0x10a9, device 0x0005) PCI slot 3
Personal Video: unit 1, revision 2.0

/usr/gfx/gfxinfo -v
Graphics board 0 is "IMPACTSR" graphics.
        Managed (":0.0") 1280x1024
        Product ID 0x2, 1 GE, 1 RE, 0 TRAMs
        MGRAS revision 4, RA revision 0
        HQ rev B, GE12 rev A, RE4 rev C, PP1 rev E,
        VC3 rev A, CMAP rev E, Heart rev E
        21" monitor (id 0xb)
        Video board present

        Input Sync: Voltage - Video Level; Source - Internal; Genlocked - False
        Channel 0:
         Origin = (0,0)
         Video Output: 1280 pixels, 1024 lines, 60.00Hz (1280x1024_60)
         Video Format Flags:  (none)
         Sync Disabled
         Using Gamma Map 0

Benchmark (single CPU)
phobos 31# ./openssl speed md5 sha1 sha256
Doing md5 for 3s on 16 size blocks: 222290 md5's in 2.82s
Doing md5 for 3s on 64 size blocks: 181010 md5's in 2.81s
Doing md5 for 3s on 256 size blocks: 111864 md5's in 2.83s
Doing md5 for 3s on 1024 size blocks: 44330 md5's in 2.84s
Doing md5 for 3s on 8192 size blocks: 6627 md5's in 2.82s
Doing sha1 for 3s on 16 size blocks: 225489 sha1's in 2.80s
Doing sha1 for 3s on 64 size blocks: 173235 sha1's in 2.83s
Doing sha1 for 3s on 256 size blocks: 98134 sha1's in 2.83s
Doing sha1 for 3s on 1024 size blocks: 36478 sha1's in 2.85s
Doing sha1 for 3s on 8192 size blocks: 5220 sha1's in 2.82s
Doing sha256 for 3s on 16 size blocks: 164398 sha256's in 2.83s
Doing sha256 for 3s on 64 size blocks: 95437 sha256's in 2.82s
Doing sha256 for 3s on 256 size blocks: 43129 sha256's in 2.86s
Doing sha256 for 3s on 1024 size blocks: 13250 sha256's in 2.85s
Doing sha256 for 3s on 8192 size blocks: 1779 sha256's in 2.83s
OpenSSL 0.9.8zh 3 Dec 2015
built on: Sun Jun 18 20:56:20 PDT 2017
options:bn(64,64) md2(int) rc4(ptr,char) des(ptr,risc2,16,long) aes(partial) idea(int) blowfish(ptr)
compiler: cc -DOPENSSL_THREADS -D_SGI_MP_SOURCE -DDSO_DLFCN -DHAVE_DLFCN_H -n32 -mips3 -O2 -use_readonly_const -G0 -rdata_shared -DTERMIOS -DB_ENDIAN -DBN_DIV3W
available timing options: TIMES HZ=100 [sysconf value]
timing function used: times
The 'numbers' are in 1000s of bytes per second processed.
type             16 bytes     64 bytes    256 bytes   1024 bytes   8192 bytes
md5               1261.22k     4122.65k    10119.15k    15983.77k    19251.20k
sha1              1288.51k     3917.68k     8877.14k    13106.48k    15163.91k
sha256             929.46k     2165.95k     3860.50k     4760.70k     5149.67k