Silicon Graphics Indy R4600SC Model CMNB006Y66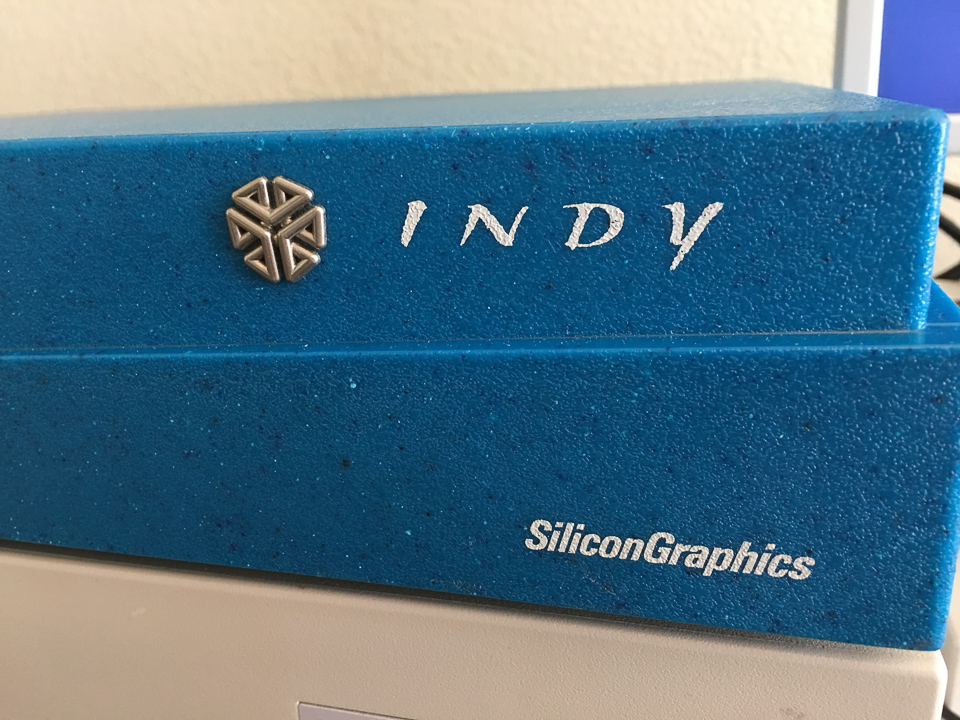 This is a Indy with the 24bit graphics option manufactured in 1996. It arrived to me with a 2GB SCSI disk and 64MB of RAM. After trying to upgrade the RAM to 256MB I ended up swapping in 128MB of RAM from the Indigo2 I acquired later. I also put a larger/quieter disk into the machine.
This machine has been slightly problematic – some sort of noise couples into the speaker (which is located in the power supply) during operation, the video output is fairly noisy and the motherboard doesn't operate properly with 256MB RAM installed (the maximum). I may swap some parts around to see if I can bring this to a better level of functionality. The Sony PSU that was shipped with this machine is better than the earlier Nidec units, but I still suspected that the power supply could be causing the noise issues. I recapped the PSU with new high-quality electrolytics on 6 MAY 2017, but the problem persists.
hinv, uname, etc. report the Indy board as an IP22 for whatever reason, but the silkscreen on the motherboard says IP24.
PROM Monitor SGI Version 5.3 Rev B10 R4X00/R5000 IP24 Feb 12, 1996 (BE)
IRIX indy 5.3 11091812 IP22 mips unknown Irix

Hardware
IP24 Mainboard

133MHz MIPS R4600SC, 512kb secondary cache
128MB RAM (8x 16MB)

XL24 (Newport) 24-bit Graphics
Sony Power Supply
IndyCam
Seagate Savvio ST936701LC 36.7GB 10krpm 2.5" SCA SCSI Disk
Software
hinv -v
Iris Audio Processor: version A2 revision 4.1.0
1 133 MHZ IP22 Processor
FPU: MIPS R4600 Floating Point Coprocessor Revision: 2.0
CPU: MIPS R4600 Processor Chip Revision: 2.0
On-board serial ports: 2
On-board bi-directional parallel port
Data cache size: 16 Kbytes
Instruction cache size: 16 Kbytes
Secondary unified instruction/data cache size: 512 Kbytes
Main memory size: 128 Mbytes
Integral ISDN: Basic Rate Interface unit 0, revision 1.0
Integral Ethernet: ec0, version 1
Integral SCSI controller 0: Version WD33C93B, revision D
Disk drive: unit 1 on SCSI controller 0
Graphics board: Indy 24-bit
Vino video: unit 0, revision 0, IndyCam connected


/usr/gfx/gfxinfo
Graphics board 0 is "NG1" graphics.
	Managed (":0.0") 1280x1024 
	24 bitplanes, NG1 revision 6, REX3 revision B, VC2 revision A
 	MC revision C, xmap9 revision A, cmap revision D, bt445 revision D
	Display 1280x1024 @ 60Hz, monitor id 15


Benchmark
indy 1% openssl speed md5 sha1 sha256
Doing md5 for 3s on 16 size blocks: 59846 md5's in 2.94s
Doing md5 for 3s on 64 size blocks: 50974 md5's in 2.95s
Doing md5 for 3s on 256 size blocks: 36307 md5's in 2.96s
Doing md5 for 3s on 1024 size blocks: 17053 md5's in 2.95s
Doing md5 for 3s on 8192 size blocks: 2840 md5's in 2.95s
Doing sha1 for 3s on 16 size blocks: 48789 sha1's in 2.92s
Doing sha1 for 3s on 64 size blocks: 37331 sha1's in 2.82s
Doing sha1 for 3s on 256 size blocks: 24555 sha1's in 2.95s
Doing sha1 for 3s on 1024 size blocks: 9865 sha1's in 2.95s
Doing sha1 for 3s on 8192 size blocks: 1503 sha1's in 2.95s
Doing sha256 for 3s on 16 size blocks: 53366 sha256's in 2.95s
Doing sha256 for 3s on 64 size blocks: 34195 sha256's in 2.95s
Doing sha256 for 3s on 256 size blocks: 15331 sha256's in 2.95s
Doing sha256 for 3s on 1024 size blocks: 4780 sha256's in 2.94s
Doing sha256 for 3s on 8192 size blocks: 650 sha256's in 2.95s
OpenSSL 1.0.0r 19 Mar 2015
built on: Sat Apr 25 11:08:52 2015
options:bn(64,32) rc4(ptr,char) des(ptr,risc2,16,long) aes(partial) idea(int) blowfish(ptr) 
compiler: cc -I. -I.. -I../include  -Olimit 3000 -I/usr/tgcware/include -DZLIB -DDSO_DLFCN -DHAVE_DLFCN_H -O2 -use_readonly_const -DTERMIOS -DB_ENDIAN
The 'numbers' are in 1000s of bytes per second processed.
type             16 bytes     64 bytes    256 bytes   1024 bytes   8192 bytes
md5                325.69k     1105.88k     3140.06k     5919.41k     7886.54k
sha1               267.34k      847.23k     2130.87k     3424.33k     4173.75k
sha256             289.44k      741.86k     1330.42k     1664.87k     1805.02k