Silicon Graphics Indigo2 R4400 Model CMNB007Y100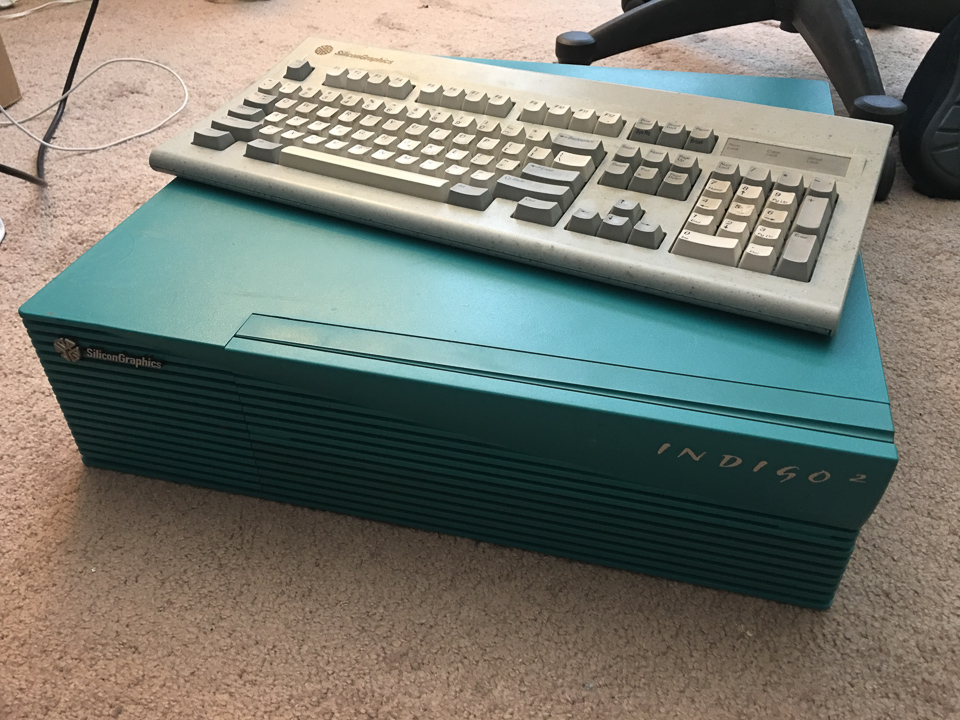 This machine is a non-IMPACT Indigo2 manufactured somewhere around 1995 or 1996. I received it with a PM3 CPU, 192MB RAM and XZ-Elan graphics but I have slowly upgraded it to the maximum non-IMPACT R4400 configuration: PM5 CPU, 384MB RAM, Extreme graphics.
Upgrade History
Update 26-JUL-2017
I acquired a GU1-Extreme boardset and replaced the XZ-Elan with that. In order to fit the G160 ethernet card and the Extreme boardset at the same time I had to move the ethernet to the bottom slot, with the Extreme boards taking up the top 3 slots.
Update 31-JUL-2017
Got some more spare parts to upgrade this machine a little bit further. Now running a PM5 CPU (250MHz R4400) and the full complement of 384MB RAM.
PROM Monitor SGI Version 5.3 Rev E IP22 Sep 28, 1995 (BE)
IRIX indigo2 6.2 06101030 IP22

Hardware
IP22 Mainboard

PM5 CPU Module, 250MHz MIPS R4400, 2MB secondary cache
384MB RAM (12x 32MB)

GU1-Extreme Graphics
Phobos G160 GIO Fast Ethernet Card
Seagate Savvio ST936701LC 36.7GB 10krpm 2.5" SCA SCSI Disk
Lockbar
Software
hinv -v
Iris Audio Processor: version A2 revision 1.1.0
1 250 MHZ IP22 Processor
FPU: MIPS R4000 Floating Point Coprocessor Revision: 0.0
CPU: MIPS R4400 Processor Chip Revision: 6.0
On-board serial ports: 2
On-board bi-directional parallel port
Data cache size: 16 Kbytes
Instruction cache size: 16 Kbytes
Secondary unified instruction/data cache size: 2 Mbytes on Processor 0
Main memory size: 384 Mbytes
EISA bus: adapter 0
E++ controller: ec1, version 0
Integral Ethernet: ec0, version 1
Integral SCSI controller 1: Version WD33C93B, revision D
Integral SCSI controller 0: Version WD33C93B, revision D
  Disk drive: unit 1 on SCSI controller 0
Graphics board: GU1-Extreme

/usr/gfx/gfxinfo
Graphics board 0 is "GR2" graphics.
	Managed (":0.0") 1280x1024 
	8 GEs, 2 REs, 24 bitplanes, 4 auxplanes, 4 cidplanes, Z-buffer
	GR2 revision 6, VB2.0
	HQ2.1 rev A, GE7 rev B,  RE3.1 rev A, VC1 rev B, MC rev C
	20" monitor

Benchmark
OpenSSL 0.9.8f 11 Oct 2007
built on: Sun Oct 14 16:11:35 CEST 2007
options:bn(64,64) md2(int) rc4(ptr,char) des(ptr,risc2,16,long) aes(partial) idea(int) blowfish(ptr) 
compiler: cc -I/usr/tgcware/include -DZLIB -DOPENSSL_THREADS -D_SGI_MP_SOURCE -DDSO_DLFCN -DHAVE_DLFCN_H -n32 -mips3 -O2 -use_readonly_const -G0 -rdata_shared -DTERMIOS -DB_ENDIAN -DBN_DIV3W
available timing options: TIMES HZ=100 [sysconf value]
timing function used: times
The 'numbers' are in 1000s of bytes per second processed.
type             16 bytes     64 bytes    256 bytes   1024 bytes   8192 bytes
md5                703.09k     2130.04k     5863.77k    10571.07k    13694.71k
sha1               597.71k     1842.83k     4456.47k     7003.47k     8351.98k
sha256             514.91k     1204.22k     2143.50k     2672.09k     2875.50k

Prior Benchmark (PM3 200MHz R4400 1MB SC)
OpenSSL 0.9.8f 11 Oct 2007
built on: Sun Oct 14 16:11:35 CEST 2007
options:bn(64,64) md2(int) rc4(ptr,char) des(ptr,risc2,16,long) aes(partial) idea(int) blowfish(ptr) 
compiler: cc -I/usr/tgcware/include -DZLIB -DOPENSSL_THREADS -D_SGI_MP_SOURCE -DDSO_DLFCN -DHAVE_DLFCN_H -n32 -mips3 -O2 -use_readonly_const -G0 -rdata_shared -DTERMIOS -DB_ENDIAN -DBN_DIV3W
available timing options: TIMES HZ=100 [sysconf value]
timing function used: times
The 'numbers' are in 1000s of bytes per second processed.
type             16 bytes     64 bytes    256 bytes   1024 bytes   8192 bytes
md5                573.97k     1728.68k     4770.34k     8480.93k    10947.49k
sha1               412.48k     1313.41k     3316.88k     5444.15k     6630.83k
sha256             414.82k      965.77k     1717.61k     2137.60k     2294.86k